Enjoy!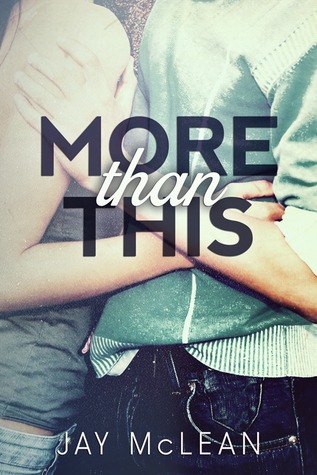 A bit about More Than This
When Mikayla imagined her prom night, she envisioned a fairy-tale evening full of romance. So when betrayal and tragedy come in quick succession, Mikayla is completely destroyed. Suddenly, everything she loved and everyone she relied on are tragically, irrevocably gone.
Jake, a handsome boy she just met, happens to witness her loss. With no one to turn to, Mikayla is forced to depend on this near stranger and his family, and he in turn is determined to take care of her. But Mikayla—thrust into adulthood with no one to guide her—is desperate to contain her grief and hide what she considers to be her weakness. Mikayla and Jake both want more, but despite their growing closeness and intense chemistry, she tries to keep her distance and protect her heart. As he does everything in his power to win her trust, Mikayla must choose between remaining alone and safe or letting love in.
I wanted to share the first page with you guys so here it is:
Prologue, Mikayla
He was right. It made no difference whether it was six months or six years.
I couldn't undo what had been done. I couldn't change the future. I couldn't even predict it.
It was one night.
One night when everything changed.
It was so much more than just the betrayal.
It was the tragedy.
The deaths.
The murders.
But it was also that feeling. . .
The feeling of falling.
It's quite short, but I figured I was allowed to share the first page since it isn't longer. I love this beginning. It's so mysterious and when I turned the page I was hooked. I absolutely loved this book and my review will be up in September - I don't have any openings until then!
My current read is
The Monkey's Secret
by Gennifer Choldenko and I want to share the beginning from that one with you as well!
A bit about The Monkey's Secret
A segregated town, a hidden boy, a courageous girl - and a mystery in desperate need of solving.
San Francisco, 1900. Thirteen-year-old Lizzy Kennedy is not like the other girls in her town. She'd much rather be helping her doctor father with his patients than be stuck in frilly dresses and learn how to dance - but unfortunately for her, society (and her Aunt Hortense) has other ideas about what is 'proper' for a young lady. This includes not poking your nose in other's people's business - but then Jing, their beloved housekeeper, gets stuck in the Chinatown quarantine. Fear rules San Francisco - fear of the Chinese, and mostly fear of the plague rumours that circle them. Lizzie knows she has to help Jing, whatever the warnings. But what she doesn't expect to find is a strange boy hiding in Jing's room.
The boy is called Noah. He says he's Jing's son - although Lizzie's never heard of him - and although he's escaped the quarantine, he can't risk leaving the house in case he gets rounded-up too. Lizzie wants to investigate, but it seems her questions only get people riled up. Is there really plague in San Francisco? What have the Chinese got to do with it? Just what or who is the mysterious 'monkey' - and what has his secret got to do with anything? Lizzie will have to use all of her courage, instinct and cleverness to unravel the mystery of the monkey's secret, save Jing, Noah and Chinatown - and maybe even her change her own destiny.
Since I really enjoy the first paragraph in
The Monkey's Secret
I want to share it with you!
Chapter 1
The Cook, The Maid, Our Horse, and Papa
I find a spot on the bench in front of the line of carriages, buggies and one stalled motorcar facing the wrong direction, trying my best to ignore the other girls' whispered plans as they climb into each other's buggies after school. They're going to wear split skirts and bicycle in Golden Gate Park, or carry parasols and wear hats and gloves to shop at the Emporium, or go to each other's houses to try on a new cotillion dress. I crack open my book as more girls sweep by. A book is a friend you take with you wherever you go.
There you go, that's my two book beginnings for you this week! Remember to link yours in the comments, I'd love to see them!