Title:
Remi's Choice (The De Luca Boys, #1)
Author:
Amanda Wylde #MysteryAuthor
Genre:
NA | Contemporary Erotic Romance
Release Date:
June 10, 2016
Author's note to the reader: Imagine two heroes with your all time favorite qualities. Hot, bad boy, tattoos, dirty mouths, hot head alpha to a fault and possessive as ALL hell. Both going for the same girl!
I know all about the crowd he hangs out with. All of them are older. Most of them are drop-outs, and some even run with a local biker club. I feel for his mother. She has her hands full. I'm only surprised, even at his young age, that he hasn't already moved out or been thrown in jail.

He is everything I hate in guys: a disrespectful jackass, too damn full of himself. And that name he dubbed me with . . . I thought it was kind of sweet at first because for once he seemed genuinely nice about something, saying he loved the color of my hair. Then later he explained the real reason. Now every time I hear him say it and see the gleam in his eyes because I know what he's thinking, I blush clear up from the bottom of my spine to the top of my head.
Psst... Giveaway down below!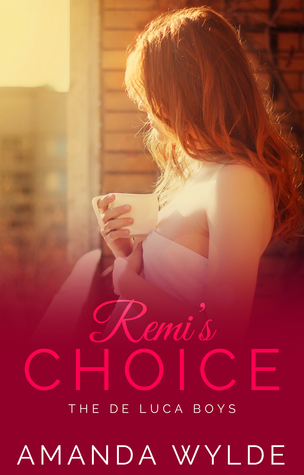 Sinfully sexy Travis De Luca came into Remi's life when she

was young, inexperienced, and easily dazzled. With his

scandalous words and wickedly sexy grins, he possessed a

power no one should have over another. He was a foul

mouthed, trouble-making thug to everyone else, but she'd

witnessed the vulnerable side he hid so well. After one earth-

shattering experience and his declaration of love, her body

and soul were hooked.



When Travis is sent away without warning, Kristiano De Luca

—his equally sexy cousin —comes into Remi's life as a friend

when she needs one most. After years with no word and waiting

for Travis to come back, she loses hope, and the friendship she's

built with Kris grows into something beautiful that fills the void

Travis left behind.



But a surprise return from Travis and one passionate night

with him throw all their lives into chaos, and nothing will

ever be the same again.
AUTHOR BIO
Amanda Wylde is an award winning hybrid author of dozens of titles, writing under a pen name to publish stories that give her the freedom to write simply for the love of writing. Stand back and enjoy an author who's possibly already one of your auto buys, push boundaries and step out of her comfort zone with stories she thought might not otherwise see the light of day.